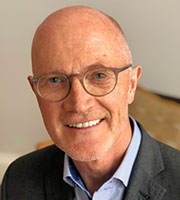 Professor Brian Jones
Microbiology
Location: BMI Ross Hall Hospital, Glasgow
Special interests: Infections in Haemato-oncology, Neonatal ITU, Mycology, Antimicrobial therapy
Professor Jones trained in medicine and immunology at the University of Glasgow, graduating in 1984. He trained in clinical microbiology in Edinburgh, Glasgow and Cambridge.
In addition to general microbiology and infection control, he has developed specialist interests in invasive fungal infections, and infections in haemato-oncology and immunocompromised patients.
Professor Jones holds an honorary chair in the Institute of Infection, Immunity and Inflammation at the University of Glasgow, and maintains wide academic interests.