TDL Portal: How to create a new request
A quick guide to creating a customised request form with a QR barcode containing all your patient and test details.
1. To create a New Request, click on the New Request icon in the left hand menu.

2. This will display panels containing the fields for your New Request. Please complete the first panel, Request Details, with all the information you require, making sure the details you provide are correct.
You do not have to complete all the fields, only those that are relevant to your request.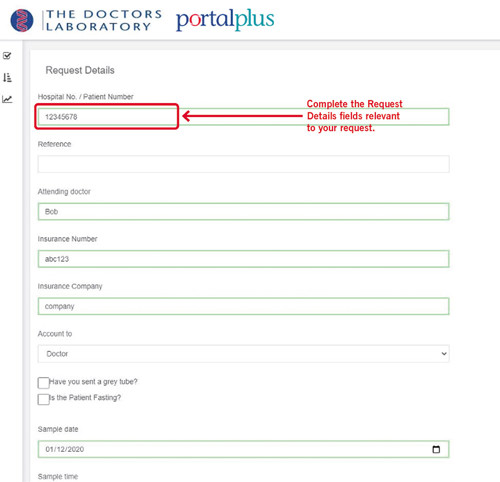 Selecting tests
3. In the panel below Request Details, you can select the tests you require for this patient. In the search field, please type in the first 4-5 characters of the test name, or TDL test code you require. See the Tests A–Z list for test codes and descriptions.
4. A drop down menu will appear showing the matching test results from the TDL test library. Scroll down to the test you require, it will highlight in blue and click on it to select it.

5. This will add a blue box above the search field containing the corresponding test code.

6. Take particular care that the tests you select are the ones you require. 
7. You can add more tests by repeating steps 3 to 5 above. Additional test codes will be displayed above the search field.

8. If you wish to remove any test codes you have chosen, click on each of the blue boxes you would like to remove. In the example below we click on the FBC test code to delete it.

9. If you want to order more than 10 tests you will need to create a separate sheet. There is a Request Again option, once you have completed this request.

Patient details
10. Once you have selected all the tests you require, please complete the Patient Details panel on the right.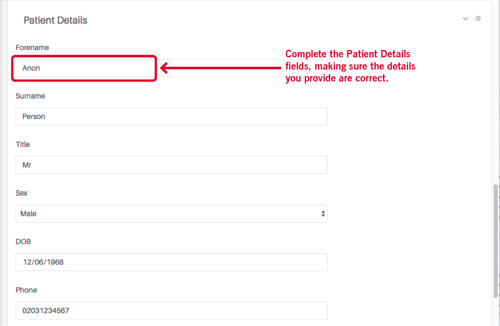 11. Click on the Save button to complete your New Request. The record may not allow you to move forward unless the necessary information is provided.
12. Click on the Download Request button and print the form to include with the sample. This form must be included or testing may be delayed or not carried out.
Printing can be done in black and white or colour, depending on your printer set up. Clinics/doctors have the option of sending the downloaded request form to the patient for them to print locally if required.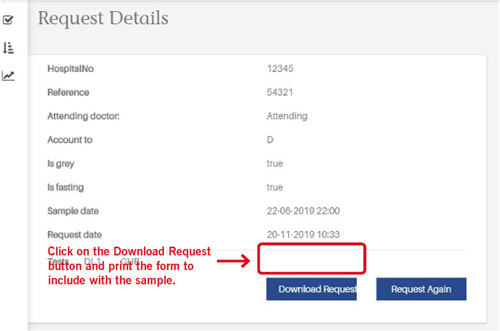 13. Click on Request Again to reopen the Request process with some fields already populated.
If you have any questions, please contact portal@tdlpathology.com and we will be happy to help.