Laboratory Guide 2022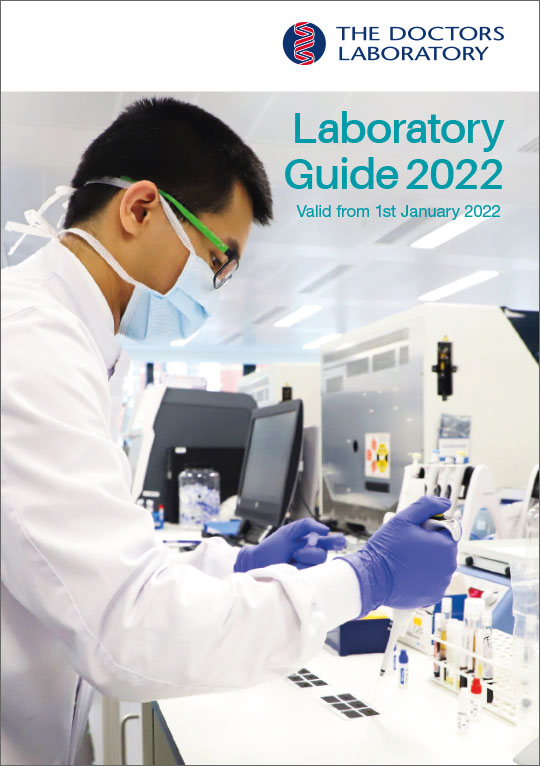 Every year we review requesting patterns, frequency of use, best practice, new methods, and include new and relevant assays into the test menu. We also try to incorporate the changes that have originated from feedback received over the past year. This helps us to keep profiles and test menus as up to date and as relevant as possible. The Laboratory Guide 2022 has been updated; there are about 1500 tests listed in sections, by speciality, and through the A – Z test index in the last section of the guide. For clinical advice or information about any of the tests that are listed – and particularly if you cannot find the test you are looking for – please contact the laboratory on 020 7307 7373. If you need information and advice about Genetic Tests please call 020 7307 7409.
The symbol NEW shows new tests.
For those who are taking samples, the inside back cover of the laboratory guide gives details of the sample types, with coloured dots for the identity of the BD vacutainer tubes (A B C F G H K). Throughout the guide the number of tubes needed is shown by the given number of dots.

To order a printed copy of the TDL Laboratory Guide 2022, please email labguide@tdlpathology.com
Sample Collection Guide
The Sample Collection Guide is a reference for clinicians and their patients who are collecting samples, or who are preparing to collect samples that require special instruction.
Sonic Healthcare UK Education and Training Annual Reports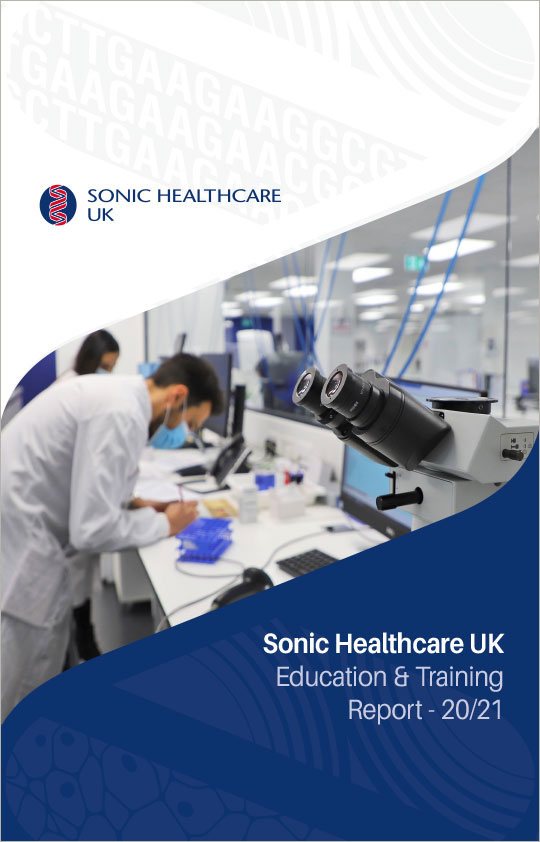 Education and training are important core values of Sonic Healthcare UK, which covers both TDL and HSL (a partnership between TDL, The Royal Free and University College London Foundation Trusts). We created the Education and Training Faculty to ensure that our workforce has excellent knowledge and skills, and to make a platform for sharing our learning with partners in universities and beyond.
We are pleased to present the Annual Reports of the Education and Training Faculty, which showcase the hard work and achievements of our staff, as well as highlighting our strategic targets.
Education and Training Annual Report 2020-2021 – Download PDF
Education and Training Annual Report 2019-2020 – Download PDF
Education and Training Annual Report 2018-2019 – Download PDF
Education and Training Annual Report 2017-2018 – Download PDF
Sonic Corporate Responsibility Report 2021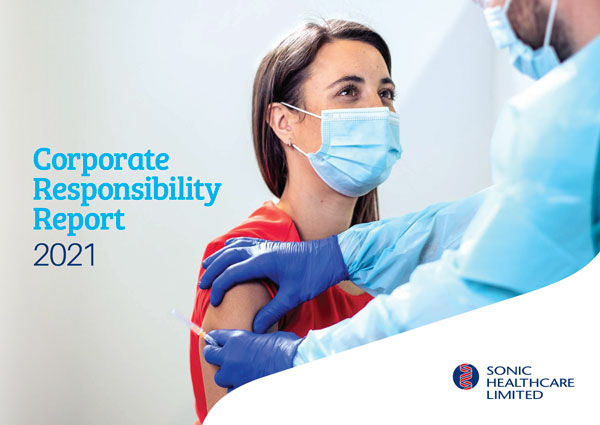 From our earliest inception, good citizenship has been an integral part of Sonic's corporate culture. 'Company conscience' and 'Respect for our people' are two of the five pillars of our Foundation Principles, and the commitment to these values extends from the Board of Directors through to our staff.
Our medical services touch the lives of millions of people either as patients, clinicians, employees, suppliers, investors or members of the communities that we serve. We strive to provide the best possible quality and service, and to deliver these as responsibly as we can.