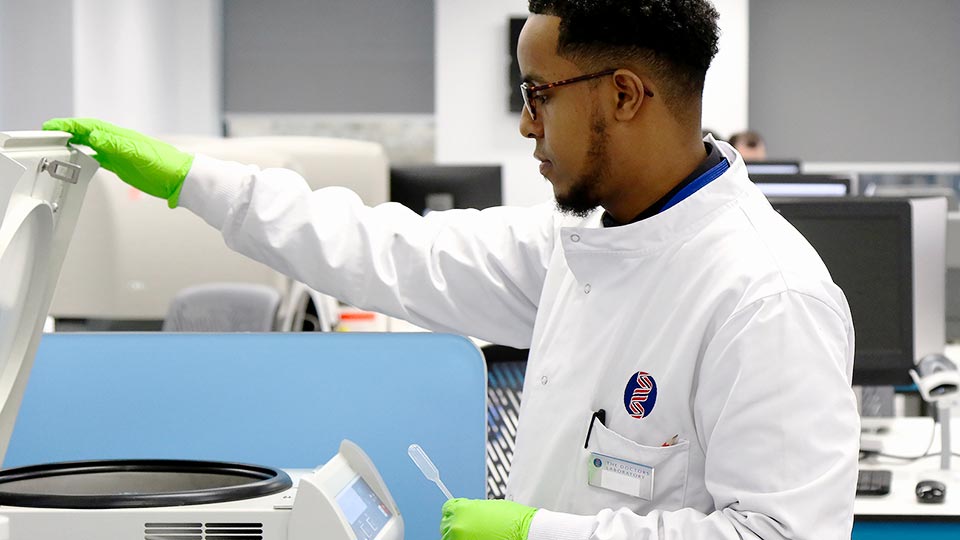 Careers at TDL
As a dynamic, rapidly-expanding organisation, TDL is always looking for ambitious, well-qualified, experienced medical laboratory staff.
The Doctors Laboratory (TDL) is the largest and most successful independent pathology organisation in the UK. With our core laboratory based at The Halo Building in London, we also have an expanding site in Manchester as well as smaller hospital based laboratories across the country.
If you are looking for a new challenge and would like to work for TDL, please contact us. We offer a rewarding and satisfying career structure with real opportunities for advancement.
Be part of our success story by joining one of our friendly, professional and dedicated scientist and support staff teams. We offer a range of full-time permanent positions, as well as part-time, evening and weekend roles across the UK.
What work benefits are offered?
Our work benefits include:
Training and development opportunities

: These include the funding of Undergraduate and Masters Degrees, and Specialist Portfolios for Biomedical Scientists.

No banding restrictions

: As we are a private company we are not restricted by salary bandings and so are able to negotiate appropriate salaries based on experience. This also means that annual salary reviews do not hit a band ceiling.
Discounted gym membership

Cash healthcare plan

: Cash back on a variety of healthcare costs including dentist and opticians.
Annual performance-related salary review
Competitive annual leave allowance
Flexible working hours: 37.5 hours standard working week for laboratory staff.
What qualifications do you need?
For biomedical scientist positions, the entry level qualification is at least HCPC (or a qualification eligible for HCPC registration). This is required because, on occasion, you may be working unsupervised and will have sole responsibility for an area of the laboratory.

For more senior positions within the organisation, further qualifications [e.g. FIBMS (Fellow of the Institute of Biomedical Science) and/or an MSc degree] are usually required.

For non-UK qualified medical laboratory staff, we occasionally have openings at TDL subject to work permit status or similar right to work in the UK. If you are thinking about working in London for a while, please contact us for further information.
What qualities do you need to be a part of our team?
Apart from qualifications and experience, we look for personal qualities. The attributes that will help you successfully do your job and help promote TDL in the best possible light to all our customers include:
The ability to organise your time, prioritise and cope with a sometimes demanding and time-constrained workload.
Excellent communication skills. Regular daily interactions with our numerous medical/surgical users are part of the job. We need people who can understand and deal effectively with questions, requests and queries that may arise, and be able to liaise with TDL's consultant pathologists when required.
A hardworking, conscientious and enthusiastic manner.
A friendly and outgoing personality, with experience of working as part of a team. This will be a distinct advantage as we pride ourselves in the service we provide, and this is achieved through teamwork and cooperation.
Current vacancies
We offer a range of full-time permanent positions, as well as part-time, evening and weekend roles across the UK.
Education and Training Faculty
The Faculty of Education and Training exists to ensure our workforce has excellent knowledge and skills, and provides a focus to share learning with partners in universities and beyond.