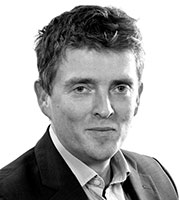 Professor Adrian JC Bloor
Haematology
MA MB BChir PhD FRCP FRCPath
Location: TDL Manchester
Special interests: CLL, lymphoma, stem-cell transplantation, clinical trials
Professor Bloor graduated from Cambridge University in 1994 with a degree in Medicine. He undertook General Medical training in Cambridge, and Specialist Haematology Training at University College Hospital, London. As part of his training, he spent 4 years working in Tony Green's Laboratory in Cambridge, leading to a PhD in Molecular Haemopoiesis. He moved to Manchester in 2006 to take up a Consultant post in Haemato-Oncology, and was awarded an Honorary Clinical Chair at the University of Manchester in 2019.
He has a special interest in the management of Lymphoid Malignancies (CLL and lymphoma), cellular therapies including CAR-T therapy, stem cell transplantation, and in Clinical Trials. He is a Director of the Stem Cell Transplant Program based at the Christie Hospital, Clinical Director of Haematology, and Clinical Lead for the Christie Haematology Research Team. He was Clinical Director of the MAHSC (Manchester Academic Health Sciences Centre) Clinical Trials Unit based at the Christie from 2009 to 2015
He is Principal or Chief Investigator for a large number of trials in Haemato-Oncology and Stem Cell Transplantation. He is a member of the NCRI CLL Clinical Trials Committee, the Blood and Stem Cell Transplantation Clinical Reference Group (NHS England), and the Leeds CLL Trials Management Group. He is a member of the UK CLL Forum Executive Committee and Medical Advisory Panels to the Lymphoma Action, Leukaemia Care and Bloodwise.