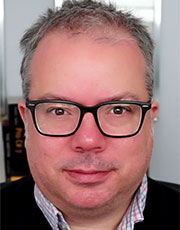 Craig Webster
Biochemistry
Location: BMI the Priory Hospital, Birmingham
Special interests: Pheochromocytoma
Craig Webster is a state registered Clinical Scientist working at consultant level. He is a specialist in clinical biochemistry and provides clinical advice on all aspects of clinical biochemistry, including specialist advice on the investigation of Pheochromocytoma.
Underpinning his roles has been a strong background in informatics and information technology. During his career, he has undertaken and participated in a number of core IT projects – from GP connect in the 1990s (connecting GP surgeries for electronic reporting – regional lead for Essex), to securing a grant with Dr Rick Jones to develop the message standards that currently underpin NPex (The National Pathology Exchange) and lab-to-lab communication.
More recently, he has been involved and researched effective mechanisms for the use of laboratory services – 'smart' electronic requesting and visualisation of laboratory results and the utilization of biological variation data for setting performance goals and the development of auto authorization rules.
He also has an interest in method development, particularly mass spectrometry. He has been responsible for all aspects of service development (procurement, funding, research and development) and has developed a number of methods supporting a wide variety of clinical services. He has developed and directed the development of highly automated methods for the analysis of Vitamin D (analyzing 80,000 samples per year at low unit cost) and other compounds (Testosterone, Steroids, Biogenic Amines, Metabolites in the Methionine Cycle, Prostaglandins) including proteins/peptides (corticotrophic-releasing hormone and Hepcidin).