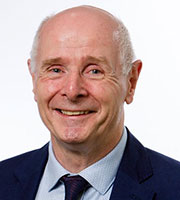 Dr Michael Thomas
Clinical Biochemistry
BSc, PhD, MSc, FRCPath, EurSpLM, SRCS, CSci
Location: Hospital of St John and St Elizabeth, St John's Wood, London
Special Interests: Quality Management, Laboratory Automation, Point of Care testing, Thyroid function testing
Mike graduated from Liverpool University in 1972 in biochemistry and chemistry, and subsequently completed a PhD in the Faculty of Medicine researching on mineralised tissue. As a Leverhulme Travelling Scholar he also spent some time in Copenhagen looking at new methods of measuring connective tissue components.
Most recently he was Professional Lead for Blood and Infection Sciences at the National School of Healthcare Science, with a particular responsibility for the implementation of the Higher Specialist Scientist Training Programme. Prior to that he served as Clinical Director (Pathology, Infection and Inflammation services) and Head of the Department of Clinical Biochemistry at the Royal Free Hospital, London.
He is a Past President of the Association for Clinical Biochemistry and Laboratory Medicine (ACB) and the current President of the Association for Quality Management in Laboratory Medicine (AQMLM). He has been a CPA Inspector and is a Science Council Reviewer. He was a Board Member for the International Federation of Clinical Chemistry and Laboratory Medicine and led an IFCC Special Project tasked with developing quality competence in medical laboratories in emergent countries (DQCML).