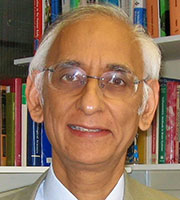 Professor Pankaj Vadgama
Biochemistry
MB, BS, BSc, PhD, CSi, FRCPath, FRSC, FInstP, IMMM, FRSB
Location: BMI the Blackheath Hospital
Special interests: Near patient monitoring, Critical care management, water and electrolyte balance
Professor Pankaj Vadgama's specialist areas are critical care biochemistry and near patient testing. He obtained his Degree in Medicine in 1971, followed by BSc in Chemistry. He was an MRC Training Fellow at the University of Newcastle from 1977–80, a Senior Register at Newcastle General Hospital from 1981–83, and Director of Biosensor Research Group, University of Newcastle, from 1983–88.
Between 1988 and 2000, he was Professor of Clinical Biochemistry at the University of Manchester and Consultant Chemical Pathologist at Hope Hospital, Salford. He also served as Research Dean for the University of Manchester's Faculty of Medicine (1996–1998), and was Professor of Biomedical Materials, University of Manchester 1999-2000.
Moving to London, Professor Vadgama has been Professor of Clinical Biochemistry at Queen Mary, University of London (QMUL), since 2000. He was also Director of the Interdisciplinary Research Centre in Biomedical Materials at QMUL from 2000–2015, and Consultant Chemical Pathologist and Head of Department, Clinical Biochemistry, at Bart's Health NHS Trust from 2006 – 2015.