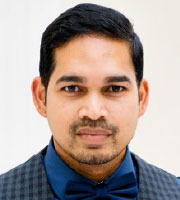 Dr Royce P Vincent
Biochemistry
MBBS, MSc, EuSpLM, FRCPath, MD (Res), SCOPE
Location: TDL London, The Halo
Special interests: Lipids, Endocrine, Nutrition, General Biochemistry
Dr Royce P Vincent is a Consultant Chemical Pathologist at King's College Hospital NHS Foundation Trust and an Honorary Senior Lecturer at King's College London. He is the Clinical Lead for the Parenteral Nutrition services, and the Laboratory Director for the Biochemistry services at King's.
Dr Vincent completed his postgraduate training in Chemical Pathology/Metabolic Medicine and clinical research at King's College Hospital NHS Foundation Trust and Imperial College Healthcare NHS Trust, respectively. He was awarded a Master's degree at University College London in 2008 and a Doctorate at Imperial College London in 2012. He was appointed a Consultant in 2012 and Head of Department in 2016.
Dr Vincent's clinical and research interests are in obesity, clinical nutrition and endocrinology. He is involved in many clinical studies, including randomised controlled trials (RCTs), and his work has been published in many international medical and scientific journals. He lectures at national and international conferences, regularly reviews journal submissions for international publications, and is serving as an editorial board member for Translational Metabolic Syndrome Research.
Dr Vincent is a Fellow of the Royal College of Pathologists and member of Association for the Study of Obesity, the British Thyroid Association, the Society for Endocrinology, the Association for Clinical Biochemistry and the European Network for the Study of Adrenal Tumours.