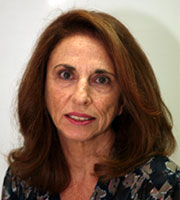 Professor Sheryl Homa
Andrology, Lead consultant
PhD ARCS FIBMS
Location: TDL London, The Halo
Special interests: Male infertility
Sheryl Homa is an HCPC registered Clinical Scientist with a special interest in male fertility. She obtained her degrees in Biochemistry at Imperial College of Science and Technology and the Middlesex Hospital Medical School.
She spent a large part of her career as an academic research scientist in the field of oocyte maturation, funded by the National Institutes of Health in the USA. For many years she served as Scientific Director of several fertility clinics in the UK working in both the public and private sectors. During this time, she became aware that male fertility is considerably marginalised and, as a result, opened Andrology Solutions in 2007 – the first and only HFEA-licensed clinic of its kind, dedicated to male infertility.
She has collaborated on many research projects and is the author of numerous scientific articles, abstracts and book chapters in the fertility field. Her studies include investigating calcium signalling in sperm and, more recently, the role of oxidative stress and infection on sperm quality. Sheryl has been responsible for introducing and CE-marking novel, state-of-the-art testing for male infertility, including a chemiluminescence assay for measuring seminal reactive oxygen species. Currently Sheryl is honorary Professor in Biosciences at University of Kent, and consultant clinical lead for Andrology at The Doctors Laboratory.