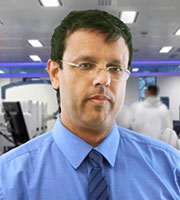 Professor Suranjith Seneviratne
Immunology, Lead consultant
DPhil (Oxon) FRCP, FRCPath
Location: TDL, London, The Halo
Special interests: Allery, Primary Immunodeficiency, Autoimmunity
Professor Suranjith Seneviratne is currently at the Institute of Immunity and Transplantation, Royal Free Hospital and University College London, UK and the Department of Surgery, Faculty of Medicine, University of Colombo, Sri Lanka.
He completed his basic Medical Degree at the Faculty of Medicine, University of Colombo with First Class Honours, eight distinctions and ten Gold medals and was placed first in his year. He completed his MD in Internal Medicine at the University of Colombo and trained in Clinical Immunology and Allergy at the John Radcliffe Hospital in Oxford.
He completed a Doctor of Philosophy in Molecular Medicine at the Weatherall Institute of Molecular Medicine, University of Oxford as a Commonwealth Scholar.
So far, he has authored 225 journal publications and has published in Journals such as: Science, Nature Medicine, Blood, American Journal of Medical Genetics, American Journal of Human Genetics, Journal of Experimental Medicine and Journal of Allergy and Clinical Immunology. Professor Seneviratne is an International expert in Allergic/Mast Cell disorders, Immunodeficiency, Autoimmune disorders and Immunogenetics. He is the Director of the Centre for Mast Cell Disorders and the President of the UK-Sri Lanka Immunology Foundation, an organisation that contributes to Immunology, Allergy and Immunogenetics education in Sri Lanka.