Pan-ethnic carrier screening
The Fulgent Beacon carrier panel is a comprehensive genetic screen for people of all ethnic backgrounds.
The panel analyses more than 400 genes, in which mutations may cause over 440 different recessive disorders. Testing includes Cystic Fibrosis, Sickle Cell Disease, Thalassemia and Spinal Muscular Atrophy. These conditions vary in morbidity, mortality and treatment.
The Beacon carrier screen can also be filtered to report only on diseases common to the Jewish population – such as Bloom Syndrome, Canavan Disease, Gaucher Syndrome and Tay-Sachs Disease.
Indications for use
Pre-pregnancy screening for couples that wish to check if they are silent carriers for a disease that would have serious implications for the future health of any children.
For patients who are concerned about a family history of a particular disease, where common mutation detections are very high – such as Tay-Sachs Disease.
The report comes with a synopsis of any diseases for which a mutation was found, including prognosis, treatment and mode of inheritance. It includes a risk assessment and recommendations for further testing. A full list of diseases covered by this test is available from the laboratory.
Male patients will not be screened for X-linked conditions. If an X-linked condition is suspected in a male patient please contact the laboratory or a genetics specialist about diagnostic testing for that particular condition.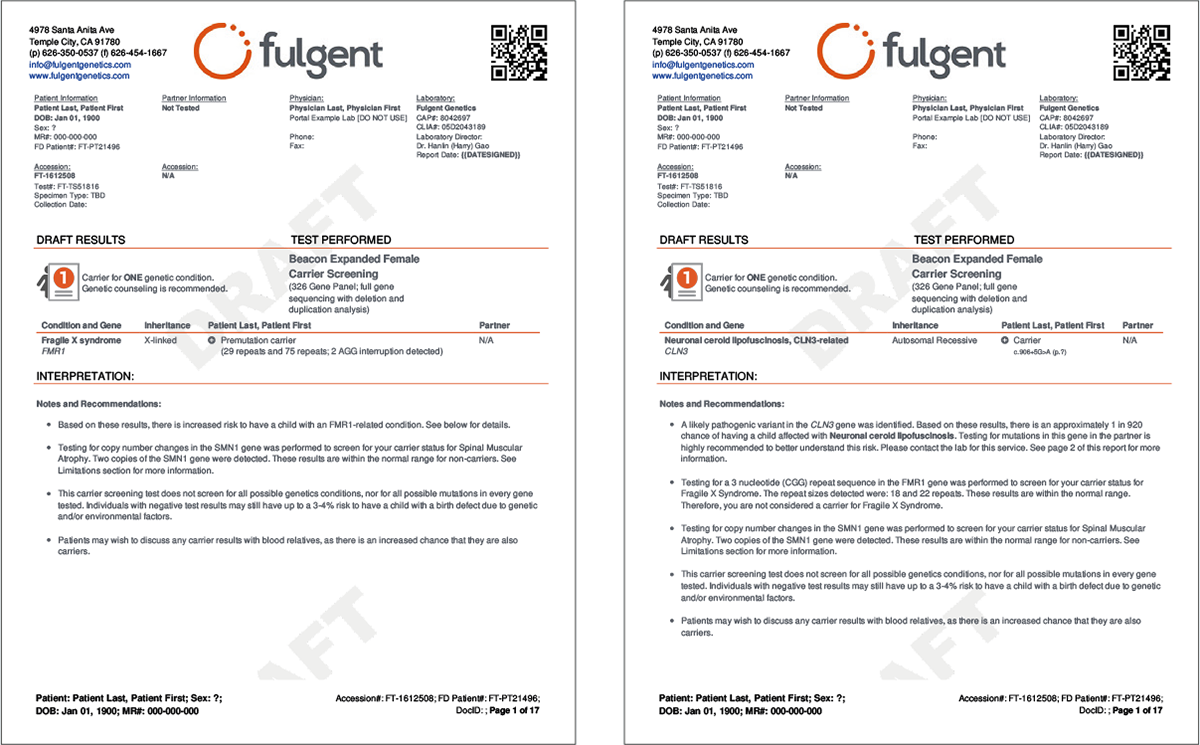 Limitations
A normal result does not rule out the possibility that the patient carries a rare mutation not detectible by this particular assay. For this reason, this test is also not appropriate to use as a direct prenatal screen (both parents must be confirmed carriers for a particular disease before we can offer prenatal diagnosis). Screening is not designed to detect somatic mutations.